Posts from 9th June 2006
9
Jun 06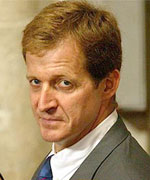 The coupleing of Alistair Campbell and "Just A Bit Of Fun" seem unlikely, but that is exactly what the BBC have found. And what fun it is as seen from Campbell's world cup blog itself. A untrustworthy photo which seems to emphasise his Scottish gingerness.
But hold on. What kind of a Scot is he? A Fervent Scotland supporter who wants England to win the World Cup? Sorry, this sentence is as meaningless as "The King of France is bald". Apparent Gordon Brown has rescheduled important business for the World Cup too. And as for Siddiq Khan MP of Sandi Thom's Tooting…
(Note the Labour website seems particularly patchy and these links keep falling down. I would try too hard.)
The history of Britain's summer hits and the history of British holidaymaking go together like sand and towels. The key factor is the balance between function and description, place and pleasure in pop – these days the summer hit templates are Whigfield or Las Ketchup, disco anthems that you hear on holiday and bring home with the duty free. In the package tour boom of the 70s, when going on holiday was itself a novel thrill, the models were "Y Viva Espana", or "Barbados" – songs about the trip that would work as postcards to dancefloors at home.
And in the 60s, when holidays for most people were Bournemouth or Blackpool, the key notes were hit by Cliff and the Shadows – "Summer Holiday", wistful, evocative, and the closest cousin to Scott McKenzie's "San Francisco". McKenzie's song is a document, a cash-in and a media-ready crystallisation of the love generation – but my guess is it made a mass British breakthrough because it's also a fine piece of 'if-only' exotica. "Summertime will be a love-in there" – we've seen it in the movies, now let's see if it's true.
The song quickly runs out of anything much to say about San Francisco and its loving vibrations, but like most travel brochures the hook is the pictures, not the words. When I planned to write this entry Britain was overcast and chilly and "San Francisco" sounded as mocking and forlorn as a broken jelly shoe. Now the sun is out, I'm packing for the Mediteranean and the gentle people sound mighty appealing. Mind you, when I planned to write this entry, Sandi Thom wasn't at Number One with her wretched answer record: a miserable illustration of how utopias curdle, the flowers in the hair becoming sticks to beat us with for not living up to someone else's pop dream.